Most Americans aren't aware that Facebook owns WhatsApp, or that Google owns Waze
That's a problem as more and more Americans look to take control of their privacy online.
In the past six months, many have been rudely awakened by the lack of privacy within the behemoth data platforms of Facebook and Google. A recent report by Pew Research Center found that a majority of Americans are significantly changing their relationship with Facebook, with about half taking breaks from the platform in one way or another.
But as Facebook usage wanes, messaging apps like WhatsApp are growing in popularity as a "more private (and less confrontational) space to communicate." That shift didn't make much sense to us because both services are owned by the same company, so we tried to find an explanation. It turns out that a striking percentage of American adults actually don't know that Facebook owns WhatsApp. ?
We randomly selected 1,297 random U.S. adults (not just DuckDuckGo users) who are collectively demographically similar to the general population of U.S. adults (see methodology below) and surveyed them on August 16th, 2018. Half of those who used WhatsApp in the past six months (247 U.S. adults) weren't aware that Facebook owns WhatsApp.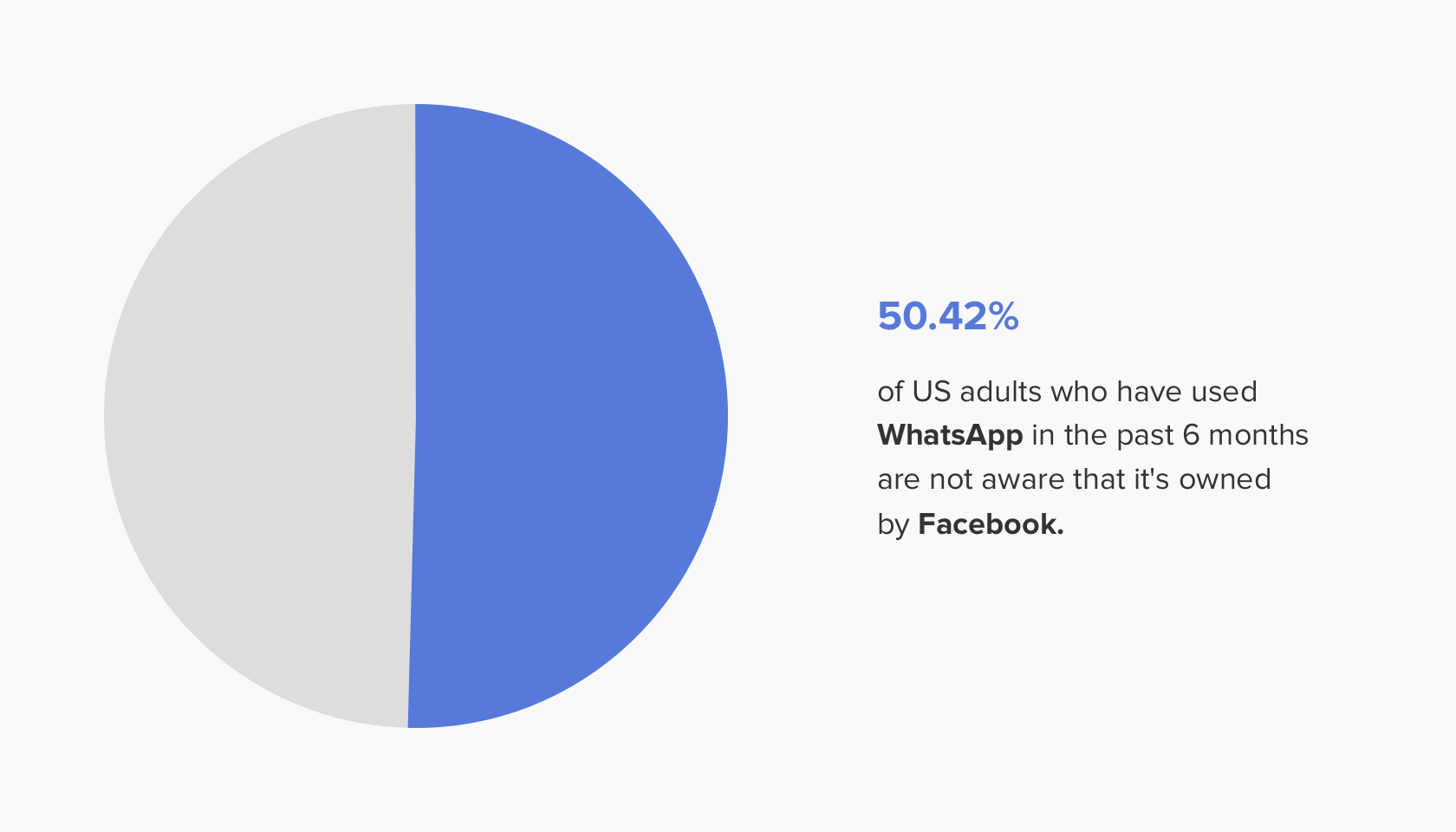 And it doesn't stop there. We also found that nearly 60 percent of those who used Waze in the past six months (291 U.S. adults) didn't know that Google owns Waze. ?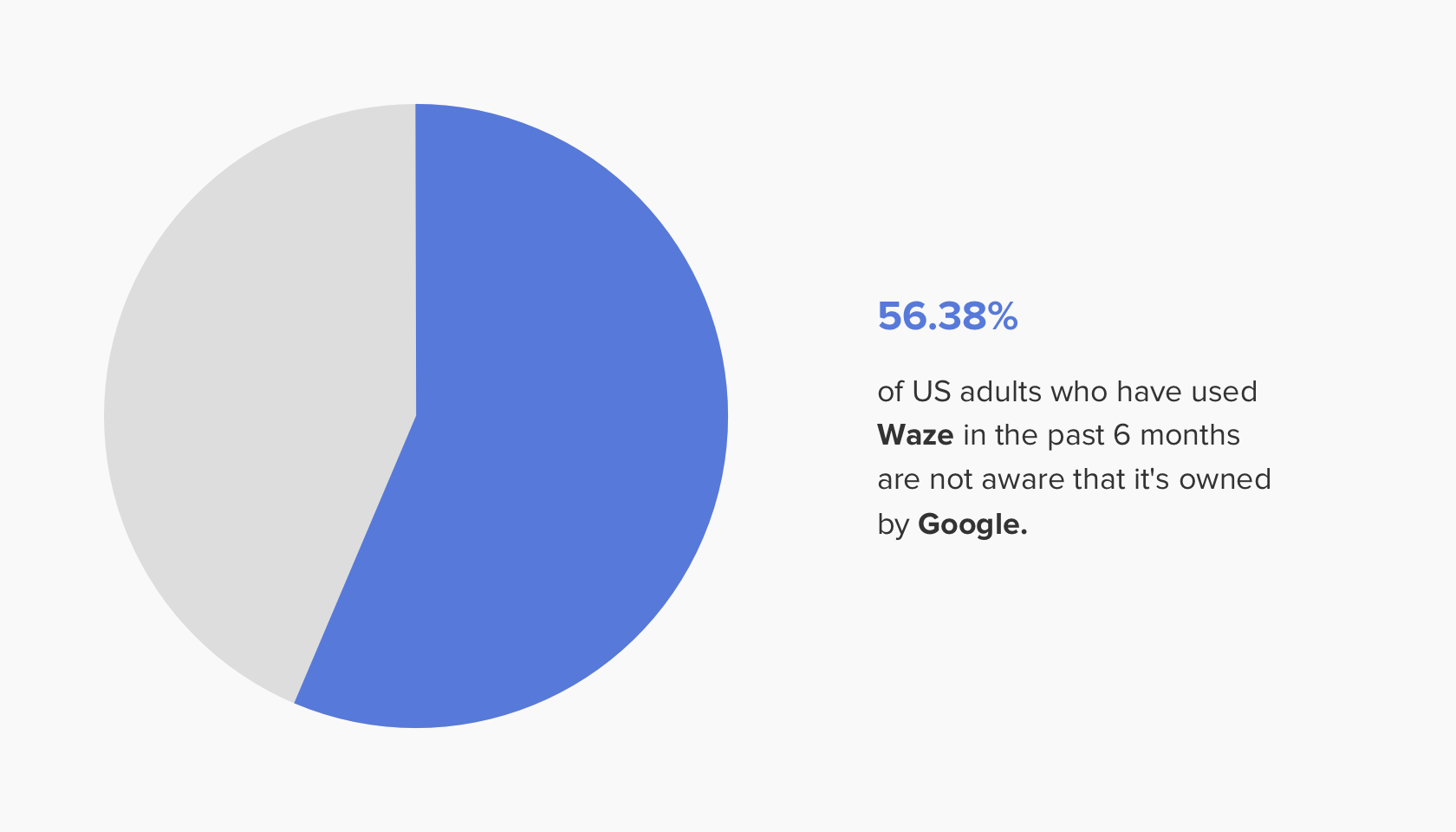 This means that a majority of Americans who are using WhatsApp and/or Waze are doing so without realizing that all of their information, whether it be routes, travel time, messages, photos, or location data, is privy to Facebook (for WhatsApp) and Google (for Waze).
As Waze states in its privacy policy:
Waze may also share personal information with companies or organizations connected or affiliated with Waze, such as subsidiaries, sister-companies and parent companies (i.e. entities that belong to the Google group of companies).
If that's not creepy enough, the social component of the Waze app means that the app is also able to collect information like your voice recordings, chats you have with friends within the app, and contacts within your cell phone.
And as was recently made clear when WhatsApp's original co-founder left the company this past April, the threat Facebook poses to WhatsApp user privacy is significant.
The lack of awareness over Facebook and Google's reach is even more alarming as more and more Americans are looking to take control of their privacy online, but don't have the information to make conscientious choices. It misleads people into believing they can avoid the treacherous waters of Google and Facebook privacy practices by standing in a smaller stream like Waze or WhatsApp, without knowing each directly flows into the very same oceans they attempted to escape.
This new survey is similar to our April 2018 findings that found that 56.90% (± 2.86%) of American adults were unaware that Facebook owns Instagram and 44.67% (± 2.87%) did not know that Google owns YouTube.
Methodology
These results are based on the polling of a random sample of 1,297 American adults (18+) on August 16th, 2018 via SurveyMonkey's Audience platform, which ensures the demographic make-up of respondents is representative of the U.S. population. Survey respondents were paid and a confidence level of 95% was used for calculating the values above.
For more privacy advice, follow us on Twitter & get our privacy crash course.